The beginning 1996 – 2006
In the period between 1996 and 2006 in harsh business circumstances and the time when any advancement and business development was often impossible, with great efforts and enthusiasn, we managed to build important business contacts and cooperation that served as the bassis of Beokran business operations.
2006
The first Beokran crane had a 20 ton capacity, and such cranes are still in use as irreplaceable in most construction works.
2007
We became the owners of 40 ton capacity crane 40t-LIEBHERR LTM 1040-1. This marked Beokran's tradition of purchasing Liebherr mobile cranes that are considered as global market leaders.
2008
The year of significant investments when Beokran's fleet was enriched with 40 ton LIEBHERR LTM 1040-1 and 60 ton LIEBHERR LTM 1060-2. This was an important moment in Beokran's further development since the company also took its position in the market.
2009
The company is growing and developing, Beokran is becoming recognizable in the market and participating in a great number of construction endeavours – we acquired 80 ton LIEBHERR LTM 1080-1 crane.
2010
Beokran took part in the construction of Ada bridge, American Embassy in Belgrade and the assembling of a new factory Ball Packaging Europe. Auto crane LIEBHERR LTM 1045-1.3 joined Beokran's fleet.
2011
The effects of global recession were also felt in Serbia, so 2011 was the year of caution. The company suspended all major investments but still increased its fleet with an auto crane TATRA AD 20, and, thus continued the procurement trend and the standards set in the company's business operations.
2012
The year of caution was followed by the years of expanding Beokran business operations. We made our bravest investment decision by acquiring 130 ton LIEBHERR 1130-5.1 crane, and we included transport services in our company's operations by acquiring MERCEDES-BENZ ACTROS truck.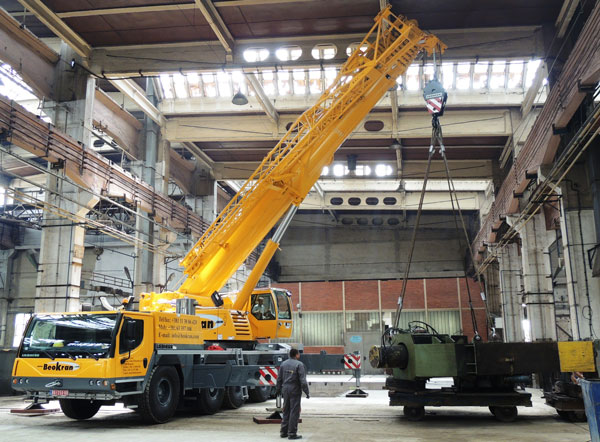 2013
By acquiring a vehicle MERCEDES-BENZ ACTROS 2646 with low bed platform PALFINGER PK 52002 EH crane, our company expanded its business to manual bringing in of machines by means of special equipment.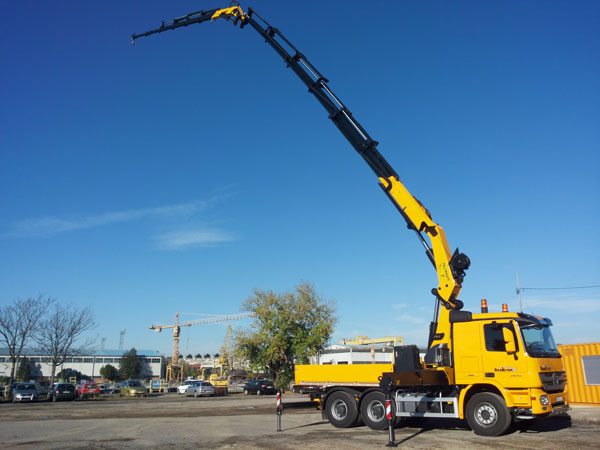 2014
Beokran started cooperation with NIS A.D., and for these purposes, the company procured a vehicle MAN 18480-4×4 with PALFINGER PK 42002 and a special semi-trailer for the transport of drilling equipment.
2015
The success continues. The company participated in the construction of Michelin factory in Pirot. Our fleet was expanded by MAN 35480 truck with PALFINGER PK 92002 SH F with a special container and a semi-trailer. This was a wind in the company management's sails to decide on the establishment of a special transport department.
2016
This year was marked by a significant investment into 200 ton capacity LIEBHERR LTM1200-5.1 that enabled us to participate in the construction of Krnovo wind farm in Montenegro. Transport department was reinforced by a puller truck MERCEDES-BENZ ACTROS 3346.
2017
Beokran is participating in the construction of pipeline within Trans-Balkan Corridor. The tradition of investing into the fleet is continuing, and two new cranes – 50 ton capacity LIEBHERR LTM 1050-3.1 and 90 ton capacity LIEBHERR LTM 1090-4.1 entered our fleet.
2018
Major projects such as the onset of Pancevo Oil Rafinery modernization, concluding annual contract with NIS Naftagas, as well as the beginning of wind parks construction in Serbia, marked the year of 2018. This year, our fleet was again expanded by two new vehicles, 40 ton capacity LIEBHERR LTM 1040-2.1, and Mercedes Benz 2645 with Palfinger PK 53002 EH-F crane.
2019
Beoran is participating in the construction of wind farms in Alibunar and Kovacica, new block within the Pancevo Oil Refinery, as well as the assembling of more than 50 cranes around Serbia. We also acquired a new vehicle LIEBHERR LTM 1070-4.2.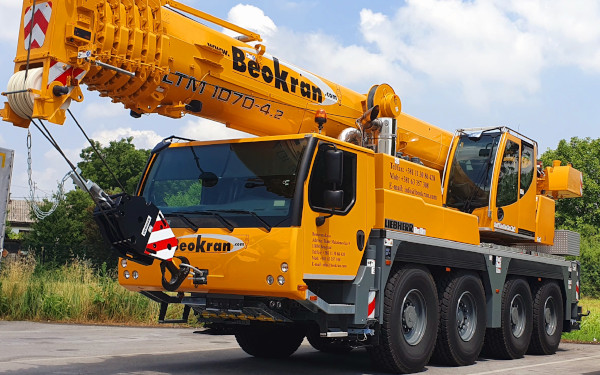 2020
LIEBHERR COMPACT LTC 1050-3.1 and VOLVO FH 500 truck with PALFINGER PK 135002 TEC 7 RANGE crane arrived at our fleet. This year was marked by the construction of Turkish line through Serbia. Beokran continued to grow in 2020 by continuously investing into the fleet quality and services in order to keep the image of safe and reliable partner. By conducting our operations at the highest standard and with top quality, we remain at the height of success.